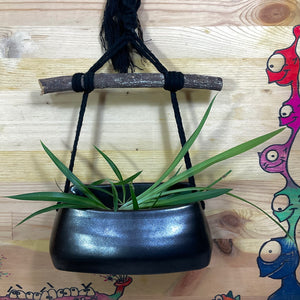 Regular Joe Planter that lives on your wall! Comes with their own stick to fetch when they're bored. This planter does not have a hole for drainage, so be mindful not to over water their plant friends. Spider plant NOT included  
Wall Planters are on average 4.5-5.5" tall x 3-4" deep and 7-9" wide. 
This is a "stoneware monster". It is food safe, microwave & dishwasher safe.
* Stoneware is able to stay outdoors year round but for longest life you might want to bring it in if temps are below freezing. 
An average and estimated shipping cost is included in the price of the piece.
* If shipping to your location is drastically more than the estimate we will need to contact you for the balance.